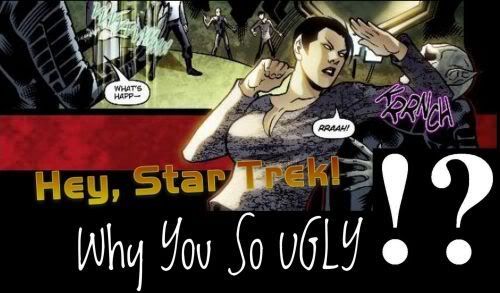 For forever and a day, so many Star Trek fans obsessed over the fact that the Klingons in the movies looked different from the ones in the Original Series. "Where did the ridges come from?" so many wondered.


When Next Gen launched and embraced the movie make-up approach, it caused everyone to start scratching the dandruff to his or her shoulders. They needed and wanted an explanation. Enterprise writer Manny Coto saw this need and, as a fan, he decided to finally give out the answer. So the Klingon controversy was finally put to rest with a cute slice of continuity that could be embraced by all us Trekkies.
The need for this explanation has always fascinated me. Why have the fans been so obsessed with Klingon foreheads when something far worse has slipped through the hull fractures of continuity and fan-outrage?
It has to be Klingon popularity, because nobody else is treated with this obsession. The differences between the Next-Gen-Borg and the Voyager-Borg get no gripes. Enterprise-Andorians versus Original-Series-Andorians? Anyone? Am I missing anybody?
What's that? The Romulans you say?
Glad you brought them up, because while everyone was obsessed with the difference between the TOS Klingons and the TNG Klingons, I was obsessed with the differences between the TOS Romulans and the TNG Romulans. The differences when it comes to their "updated" looks are just as extreme as the differences between the Klingons. Yet nobody screams foul or demands an explanation.
And I say that these differences are worse! There isn't a single story in the TOS cannon in which the physical look of a Klingon impacted the story. The Romulan thing, however? However??? The Romulans look like the Vulcans. This is, dare I say, cannon. This was huge in "Balance of Terror." Remember? Racist-Red-Shirt-Guy looks back and forth between Mark Leonard and Leonard Nimoy and he can't tell the difference! This leads to all matters of hilarity in one of Trek's greatest episodes.
Then, in TNG, the Romulans roll up on the Enterprise in the episode "The Neutral Zone" and there they are with their own crazy new foreheads, but the fans only still only care about the Klingons. That's just plain batty to me. Is it just popularity? Or is it that the changes happened to the Klingons earlier? Is it because nobody really likes the Romulans anyway?
I have no idea why they changed the Romulans. Who thought they'd be better with eyebrows that couldn't move? Something got between Trekkies and well-deserved, sexy pointed eared beings. There really must have been a meeting somewhere in Hollywood where the TNG creators, producers, and designers all signed off on some seriously unflattering designs for one of Trek's hottest races. They contemplated, sketched, weighed, and actually decided on Cro-Magnon foreheads for the Romulans and completed the choice with Vulcan bowl-cut wigs.
Someone showed a sketch of this new and exciting Cavemen from Romulus approach to somebody else who's paid a lot of money. In the sketch, the artist even added those heroic shoulder pads. You know the shoulder pads I mean. The ones that ensured every door constructed for the show would be twice as wide and so twice as expensive? And the person with the money said, "Ugly and no curves?! Brilliant! I can't write you enough checks!"
Does anybody agree with me that "The Enterprise Incident" would have played a bit differently if Spock were up against that sort of body, haircut, and eyebrow set?


How would it have played on Vulcan if his true love in "Amok Time" had been sporting that TNG wig? I have no doubt the scenes would have played fine, but us poor viewers would have been denied some seriously sexy Vulcan princess.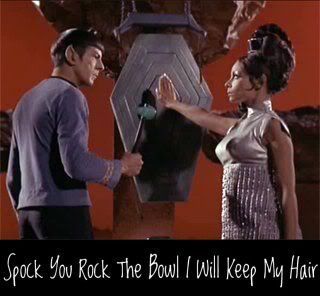 Romulans and Vulcans, as far as Kirk knew them, were hotties. The two species are supposed to be related, but the thing that draws them closest is how ugly the TNG staffers made them.
In the 24th century, Vulcan females should have still been pinning up their long locks and explaining to Commander Riker, "It's still regulation." And Riker, wearing his casual blue-seduction shirt, could do his grin through the beard before they faded to commercial.
After all, wasn't TNG supposedly the ground-breaking liberally sexy show? Were the Vulcans deliberately downplayed to shrug off Spock's shadow? Are we really supposed to believe that at some point in between "The Undiscovered Country" and "Encounter at Farpoint" the Vulcans all got together and agreed that ugly hair was best for the entire species?
Giving the Vulcans such a poorly chosen uniform look even crept its way into the prequel show Enterprise. Out of respect for TNG, I have to guess, they just rubbed some of that ugly onto Jolene Blalock! In order for her to become truly hot and dead sexy, they had to place her inside of an alternate universe where she could expose her belly and, more importantly, let her hair down. In essence, inject the lovely miss into a separate cannon. A cannon reserved for Sexy Vulcans. A beautiful canon, my friends, where we all should be allowed to live because there simply is no room inside of our proper Trek Universe for Little-Miss-Sexpot-Vulcans.


Hey, I know about the med-gel scenes, but I still have to point out that Miss Blalock had all of that hair crammed underneath a horrible wig. I mean, have these guys never seen Saavik? Too dated? Too distant? What's the problem?
Oh, right, Captain Kirk is the only character in the Star Trek mythos that actually has sex-support from the producers, designers, and creators.
I mean, is it any wonder that our new sexy Star Trek movie involves Kirk? Obviously it is only through him that we can get back to Vulcan/Romulan sex appeal. Don't believe me? Check out Nero's women (as conceived by artist David Messina). The comic images below are from the "Star Trek: Countdown" comic book (issue three comes out in March). The other picture is just positive reinforcement.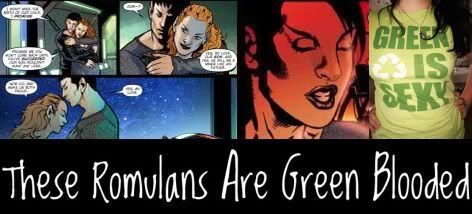 So many fans are obsessed with the look of the new Star Trek movie and I, for one, am glad to see that the Romulan foreheads are out. I don't even want it explained to me (why or how). But if you'd like to know, I'll rub a little EU on it. A bit of dialogue for TNG's "The Neutral Zone."
"Commander Tebok, we must speak to this Federation Starship!"
"Yes, but I do hesitate. Because of the ugly ray we used on ourselves 80 years ago."
"It is embarrassing. That's why we've kept to ourselves for so long."
"I'm not looking forward to explaining it to them."
"Maybe they got ugly… too?"
"I wouldn't count on it."
"Maybe they won't say anything."
"I hope so. I hope our old enemies never mention that our eyebrows no longer move. I hate being ugly. On-screen."
That explanation is perfect for me. Of course I need Manny Coto to tell me why they built the ugly ray in the first place and maybe one day he will. Such an action would bring the scene out of the EU, into the proper Star Trek cannon, and it could play alongside the explanation fans demanded for the Klingons.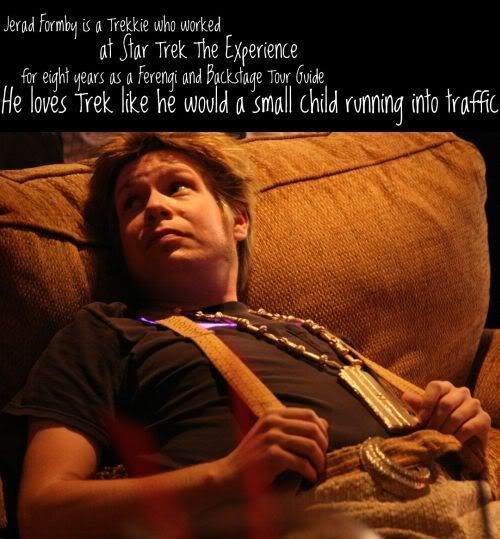 Follow Jerad Formby on Twitter.